ABOUT
DARINGMAKER
---
Exclusive and Premium Rings Collections for Special Occasions.
Da Ring-Maker is an assortment of limited edition Collectible Rings. Fewer than 1% of our products make it to this collection. Every ring under this collection has an inspirational story and a lot of emotion attached to it. We trust that the ones who wear from this collection are amongst the most loved & pampered souls.
OUR
EVOLUTION
---
Da Ring-Maker is our collection of limited edition rings & comes from the house of Hanumant Diamonds.
Hanumant diamonds is a diamond trading & Jewelry manufacturing firm based in Surat, India. We are specialists in hand-crafted, customized gold & diamond jewelry. While processing our orders for our selected elite clients, we are constantly inspired to deliver exclusive designs, better than the most revered names in the jewelry industry.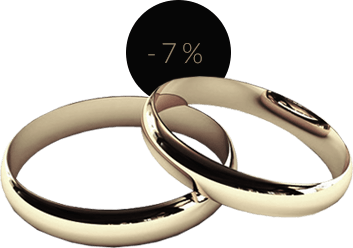 MAKE YOUR OCCASIONS SPECIAL
---
The engagement & wedding rings have always got our special attention, for the love & connect it has with the owner. The rings that our gorgeous ladies wear are a perfect reflection of not just their personality, class, social status, but most importantly their bond of love with their loved ones. There is no better way to convey your affection, than gifting your ladylove with a limited edition ring, designed just to express your love.
This fondness inspired us to delve deep into the nature, identify the symbols of love, beauty & passion, and craft them into Rings of Da Ring-Maker.